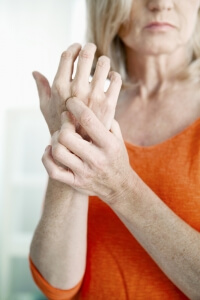 Arthritis is a common condition that occurs when there is inflammation of the joints, which may affect the wrists, fingers, ankles, knees, hips and other areas. The condition can be highly debilitating, as the common symptoms include pain, swelling, stiffness, or deformity. As a result, arthritis can potentially limit your ability to engage in daily activities. Arthritis in the hands and fingers, for instance, can make eating and typing difficult, and knee arthritis may make recreational activities impossible. Fortunately, there are many different types of arthritis treatments available, including both surgical and non-surgical options, designed to restore joint function and reduce or eliminate discomfort. If you're experiencing limited mobility, pain, or other complaints due to arthritis, our experienced orthopaedic specialists can develop a customized treatment plan that offers the best possible opportunity for relief.
There are over 100 different types of arthritis, and the most common form is osteoarthritis, which develops as a result of wear and tear on the joint over time. Factors that can contribute to this condition include genetic predisposition, body weight, lifestyle, limb alignment, and deformity. Other types of arthritis include inflammatory, transient, post-traumatic, and septic. Regardless of the origin of your arthritis, our skilled physicians will help you find a modality or series or modalities that can help you live the fullest life possible.
For more information about our treatments for arthritis, please click on the following links:
If you have additional questions about arthritis treatments, or if you wish to schedule a consultation with one of our doctors, please contact us today.
Click below for physician, physician assistant and nurse practitioner specialties: