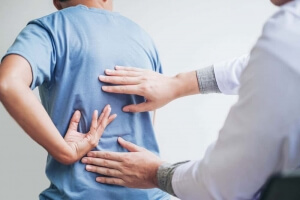 Living with a ruptured, or herniated, disc can be an extremely painful and debilitating experience. It can impair your ability to perform even the most basic physical tasks, such as bending over or walking. Even something simple like crawling out of bed can be a daunting task. According to the National Center for Biotechnology Information (NCBI), this condition can occur at any age but is most common in people between the ages of 30-50 years old with a male to female ratio of 2:1. Most pain associated with a herniated disc often occurs in the upper cervical and lower lumbar regions of the spine.
Symptoms of a herniated disc can range from no symptoms at all to severe symptoms affecting the ability to perform everyday tasks. However, advancements in technology and surgical medicine have allowed for patients to recover and return to most of their normal activities.
A complete overview of the spinal column is discussed in greater detail below along with risk factors and treatment options available for a herniated disc.