Overview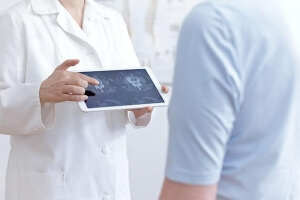 Living with spinal stenosis can be an extremely frustrating and, often, painful experience. Although spinal stenosis can occur amongst younger patients and athletes, it is typically a degenerative condition that affects older individuals. According to Medscape.com, spinal stenosis affects about 5 of every 1000 persons over the age of 50. Spinal stenosis can sometimes go undiagnosed, or even misdiagnosed, with its symptoms often dismissed as part of the aging process.
Most people suffering from this condition find it very difficult to live with because of the inconsistency of what sets it off. It can appear out of nowhere and can happen even while doing a normal routine you may have done countless times over.
One patient's account of her experience started with her daily walk around the neighborhood. Everything was normal that day, she felt great… nothing out of the ordinary. About midway through her walk, a sudden jolt of pain shot down into her foot. She began to feel a tingling or burning sensation. This was quickly followed by what felt like pins and needles prickling at her lower extremity. Numbness began to settle in as the muscles in her leg began to weaken. The strength in her leg had all but disappeared, leaving her unable to put any pressure on it and impairing her ability to walk. She was grounded for a couple of days until she woke up one morning to find that she was completely fine, as if nothing had ever happened. The next day she was back, walking the neighborhood again. About six months later, it happened again. This time, she was at an out-of-town conference meeting. And again, it occurred in her kitchen just one month later. She was eventually referred to an orthopedic surgeon who diagnosed her with spinal stenosis.
These experiences can vary from person to person, but no matter the differences—it can happen at any moment, any place, without warning…and repeat itself time and time again. For some, symptoms can occur while walking or running. While others may experience them while standing or sitting in the same position for too long. Other times, symptoms can appear for no apparent reason at all. Spinal stenosis can affect many different parts of the body in different ways. This all depends upon which nerves of the spinal cord are being affected by the stenosis and to what level of severity.
A complete overview of spinal stenosis is discussed in greater detail below, including—symptoms, causes, diagnosis, and treatment options.