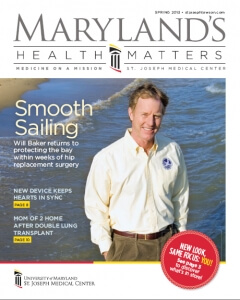 Maryland's Health Matters: University of Maryland St. Joseph Medical Center
March 2013 – Smooth Sailing, Will Baker, patient of Dr. David Dalury returns to protecting the bay within weeks of hip replacement surgery.
"According to an article published in The Lancet, hip replacement is the single greatest surgical procedure of the last century," says David Dalury, MD, a board-certified orthopaedic surgeon and chief of Orthopaedics at UM-St. Joseph Medical Center. Dr. Dalury has performed hundreds of hip replacements during his career.