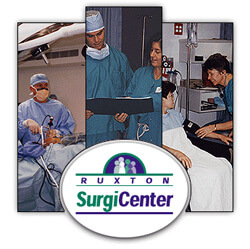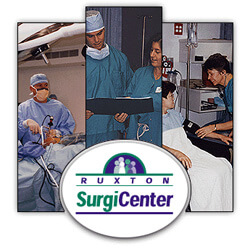 The Ruxton SurgiCenter is a state-of-the-art, out-patient surgical facility. Our environment is specially designed to offer a cheerful, comfortable setting that is efficient, convenient and relaxing.
It is a JCAHO accredited facility, which has passed rigorous quality patient care standards set by the Joint Commission on Accreditation of Health Care Organizations.
Our Location
Ruxton Professional Center
Suite 201, 8322 Bellona Avenue
Towson, MD 21204
Phone: 410-337-2688, Fax: 410-337-2606
Patients Rights & Responsibilities (PDF)
What Patients Are Saying About the Ruxton SurgiCenter
"Staff is very friendly. The facility is very quiet."
"The facility is private, convenient and the staff is very professional."
"The facility is bright, comfortable, and convenient."
"Very well organized."
"No waiting, no lines."
"Make the public more informed; It is a marvelous place."
Before Your Surgery
You will receive a call from the pre-op nurse 1- 7 days before your surgery. She will ask you to answer several questions from a short questionnaire. At this time you may ask any questions and the nurse will go over some instructions such as:
You must have pre-admission testing done 4-7 days prior to surgery, as we need to have the results at least 72 hours before surgery.
You must make arrangements for a responsible adult to bring you to your surgery and take you home. They must be prepared to wait for you. If you do not have a ride your surgery will be cancelled.
If there is a possibility of being pregnant please notify your doctor.
If you are taking any medications for diabetes, high blood pressure, diet pills or herbal medicines please call your Primary Care Physician as soon as possible for instructions.
You may have to stop certain medications several days before surgery.
DO NOT EAT, DRINK, CHEW GUM, SUCK ON CANDY OR LOZENGES AFTER MIDNIGHT PRIOR TO SURGERY. IF YOU SMOKE, DO NOT SMOKE AFTER MIDNIGHT PRIOR TO SURGERY.
Please arrive at your scheduled time to allow for adequate time for admission procedures.
If you will need a surgical shoe, crutches or sling try to get these prior to the day of surgery. If this is not possible you will be directed to Ruxton Orthotics (on the same floor as the SurgiCenter) to obtain these items prior to your procedure.
The Day of Surgery
Bathe or shower the morning of surgery – male patients should shave in their normal fashion that morning. You may brush your teeth.
Women should not wear make up or dark fingernail polish (black, blue or green).
Wear loose, comfortable clothes and low-heeled shoes. Sweat pants, shorts or a skirt are recommended for knee or foot surgery.
Please leave valuables, jewelry, wallets and purses at home.
Be sure to bring your insurance cards, picture ID, referrals, and list of both allergies and medications that you are currently taking.
Women age 55 and under may be asked to give a urine specimen for a pregnancy test once admitted to the center.
If you are having anesthesia the anesthesiologist will meet with you just prior to your surgery to discuss this with you. You will have the opportunity to ask questions at this time.
Limit the number of family members that will be waiting for you during your surgery. Only one or two will be allowed in the pre-op and recovery areas.
After Surgery
After your procedure you will be moved to our fully equipped recovery area where the nurses will monitor you until you are fully awake. You will then be transferred to discharge recovery where your family may join you.
Instructions will be given to you and a responsible adult. You will also receive a copy of the written instructions.
Important things to remember after having general or sedation anesthesia.
Eat light meals that day.
DO NOT drive for at least 24 hours.
DO NOT drink alcohol for 24 hours.
DO NOT make any important decisions or sign legal documents for 24 hours.
We highly recommend that someone stay with you for 24 hrs. after surgery.
If needed, a prescription for pain medicine will be provided. Take as directed. There is no pharmacy in the building. The nurse may be able to call in your prescription in some cases.
When at home relax, elevate and ice surgical site if instructed to do so.
Call your physician's office at 410-337-7900 if any bleeding, fever, swelling or discoloration is noted. A nurse will call you within the next day or two to check on your recovery. Call the SurgiCenter if you have any questions at 410-337-2688.
You will receive separate bills for the Ruxton SurgiCenter, your surgeon, your anesthesiologist and the pathology lab if used.
Your physician may own direct interest in Ruxton SurgiCenter. Ruxton SurgiCenter is an appropriate site for your procedure. If you prefer to have your procedure at another facility, please inform your physician's office immediately.
Directions to the Ruxton Surgicenter
Take the 695 beltway to the Charles Street exit #25. Take Charles Street South.
Turn right at the intersection of Charles Street and Bellona Avenue.
Take your first right on to Bellona Lane. Turn left into the Ruxton Professional Center.
Ruxton SurgiCenter is located on the second floor of the Ruxton Professional Center.
RUXTON SURGICENTER INSURANCE
TIN#52-2095835 / NIP# 1841347143
Revised 3/23/22
Plans we currently PAR with:
Aetna
Allegiance
Amerigroup
Auto( Please check available PIP and provide Health Insurance, must be a participating health plan)
BlueShield (All)
Carefirst Administrators (All)
Cigna
Cigna Healthsprings
Cigna True Choice Medicare
Coresource
Coventry
EHP
Humana
LBA/Allegeant
Maryland Physicians Care
Medicaid Primary
Medicare
Priority Partners MCO
Railroad Medicare
Tricare/Tricare for Life/Us Family Health/VA CCN/Champva
UHC-all products except Medicare Advantage HMO
UHC products include: Alliance/One Net, Golden Rule, Mamsi, MDIPA, Optimum Choice, Select, Allsavers, Choice Plus
UMMS Carefirst Medicaid and Medicare
Work Comp
Plans we DO NOT PAR with:
Erickson Advantage
Kaiser
Multiplan
PHCS (Check the back of the card to make sure PHCS is not indicated)
Select Health
UHC-Medicare HMO/ Dual Program