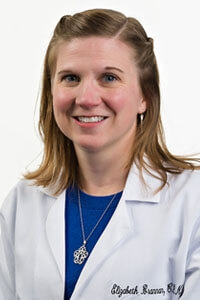 Elizabeth Brannan is a Board-Certified Adult Acute Care Nurse Practitioner (CRNP) with additional certification in orthopaedics. Elizabeth has more than 15 years of experience as a nurse practitioner with the majority of practice spent in orthopaedics. She specializes in the inpatient management of orthopaedic patients at University of Maryland St. Joseph Medical Center and non-operative management of hip and knee arthritis and general orthopaedic complaints.
Elizabeth earned her undergraduate degree from Wofford College (Spartanburg, SC) and went on to complete her Master's degree at Vanderbilt University (Nashville, TN) as an Adult Acute Care Nurse Practitioner. Elizabeth completed a Doctor of Nursing practice degree from Virginia Commonwealth University (Richmond, VA) in 2022.
Elizabeth has worked in both orthopaedics and emergency medicine. In addition, she completed an additional program to provide assistance as a surgical assistant in the operating room.
Education
Undergraduate: Wofford College
Master's Degree: Vanderbilt University
Doctor of Nursing Practice: Virginia Commonwealth University
Certifications
Board Certified by the American Nurses Credentialing Center as an Adult Acute Care Nurse Practitioner
Licensed by the Maryland Board of Nursing as a Registered Nurse and Certified Registered Nurse Practitioner
Board Certified as an Orthopaedic Nurse Practitioner by the Orthopaedic Nurses Certification Board
Memberships in Professional Organizations
Member, American Association of Nurse Practitioners
Member, Sigma Theta Tau International (Honor Society of Nursing)
Member, National Association of Orthopaedic Nurses