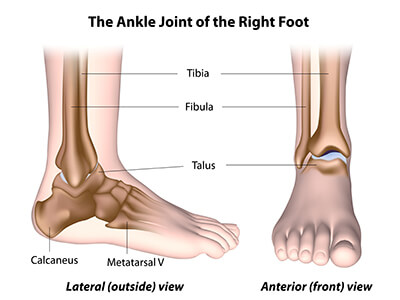 Concerns affecting your feet, ankles, and lower extremities can quickly become debilitating, and if you're experiencing discomfort in these areas you may not be able to enjoy many of your favorite activities, including tennis, golf, and other sports. You may also eventually find simple necessary movements like standing, walking, and going up and down stairs have become painful or impossible. At Towson Orthopaedic Specialists, our extensively trained orthopaedic surgeons can determine the source of your problems and develop a customized treatment plan that can help restore functionality, improve your well-being, and reduce or eliminate pain. We utilize the latest techniques, including non-surgical and minimally invasive arthroscopic methods, to suit your unique needs and optimize your results.
» Watch a Midday Maryland video about Foot and Ankle care at Towson Orthopaedic Associates.

Foot and ankle problems can occur due to a wide variety of conditions. Some of the more common concerns include injuries like sprains and breaks, normal wear and tear, arthritis, gout, acquired or genetic deformities, and other disorders. Our skilled physicians offer care and treatment for all foot and ankle problems, and we will provide a thorough examination and discuss your experience, lifestyle habits, and goals before beginning treatment.
If you have questions or would like to schedule a consultation, please contact our office today.