Clinical Professor of Orthopaedic Surgery, University of Maryland School of Medicine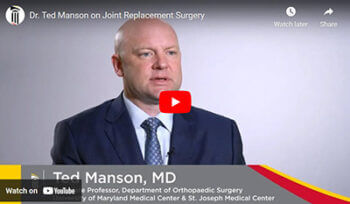 Dr. Manson specializes in hip and knee replacement surgery and treatment of hip and knee arthritis.
From 2009 to 2019, Dr. Manson was an orthopaedic trauma surgeon at the R Adams Cowley Shock Trauma Center and cared for patients with complex fractures and multi-system trauma.  In addition, he cared for patients from Maryland, Pennsylvania, Delaware, and West Virginia who were referred for complex fractures or infections around existing hip and knee replacements and directed the Maryland Statewide Referral System for these patients. He also had a hip and knee replacement practice at St Joseph's Hospital during this time.
Dr. Manson now limits his practice to patients with arthritis and provides treatments ranging from early treatments for arthritis to joint replacement surgery.
Dr. Manson's clinical and research interests include direct anterior hip replacement, early treatment of knee arthritis including osteotomy and partial knee replacement, and joint replacement after previous fracture.
Each year, he is co-director of the International Masters Anterior Course in Houston, Texas. This is a three-day intensive course on advanced surgical techniques, attended by surgeons from around the world.
Before attending medical school, Dr. Manson was a biomedical engineer involved in biomedical testing and implant design. He continues to be involved in implant design for fracture fixation and joint replacement.
Dr. Manson was named a Top Doctor in the specialty of Orthopaedic Surgery: Joint by Baltimore Magazine in 2022, 2021, 2020, 2019, 2018, 2017, and 2016.