Dr. Alvin J. Detterline is a board-certified orthopaedic surgeon and sports medicine specialist.
Dr. Detterline specializes in sports medicine, arthroscopy (including knee, shoulder, hip, elbow, and ankle), and general orthopaedics. He strongly believes in minimally invasive procedures utilizing the most up-to-date techniques to maximize patient recovery and minimize pain. Many procedures can be performed arthroscopically (through the use of small incisions and a camera instead of large open surgical wounds) which allow for a quicker recovery for many patients. Dr. Detterline treats both common and complex conditions of the knee, hip, shoulder, elbow, and ankle. See below examples of the conditions he treats and procedures he performs.
Also be sure to see our Video Library below.
Education and Training
Dr. Detterline attended Wake Forest University where he graduated summa cum laude with a B.A. degree in Physics and Chemistry in 1998. He received his M.D. degree from Indiana University in 2002. He completed his orthopaedic residency at Rush University Medical Center in Chicago, IL. Dr. Detterline received his fellowship training in sports medicine and arthroscopy at the Cincinnati Sports Medicine and Orthopaedic Center under the esteemed Dr. Frank Noyes.
Athletic Team Affiliations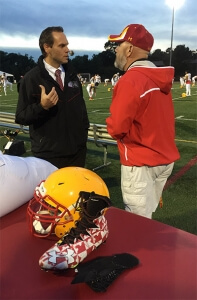 Dr. Detterline is the athletic team physician for:
Calvert Hall College High School
Friends School (Baltimore)
Mercy High School
More About Dr. Detterline
Dr. Detterline grew up in northwest Indiana just outside Chicago. After completing his orthopaedic surgery and sports medicine training, he moved to Baltimore in 2008. He is an avid tennis player who also enjoys exercise, running, national parks, American history, and spending time with his wife and two young children.
Certification and Professional Society Memberships
American Academy of Orthopaedic Surgery
American Orthopaedic Society for Sports Medicine
Arthroscopy Association of North America
Member, NFL Disability Neutral Physician Panel
Subspecialty Certification in Sports Medicine by the American Board of Orthopaedic Surgery
American Board of Orthopaedic Surgery, Board Certified
Maryland Orthopaedic Association
Maryland State Medical Society
Honors and Awards
Fellow American Academy of Orthopaedic Surgeons
Gunnar B.J. Andersson, M.D., Ph.D. Resident Teacher Award
Jorge O. Galante, M.D. Chief Resident Excellence in Research Award
Orthopaedic Research and Education Foundation: Midwest Orthopaedic Resident Research
Symposium Third Place Award Recipient
Phi Beta Kappa
Wake Forest University Dean's List
Sigma Pi Sigma, National Physics Honor Society
Golden Key National Honor Society
News & Notes