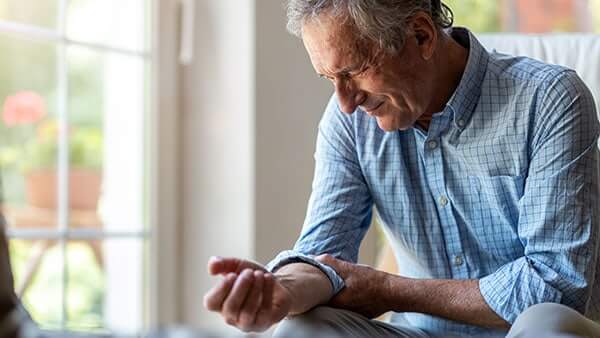 23% of all American adults suffer from arthritis.
Arthritis is a painful and all too common disease. The first, and most obvious, concern is joint pain and inflammation. Mitigating that pain is key to managing your day-to-day life.
But did you know arthritis can also affect your heart? 
Read on to learn more about the connection between arthritis and heart disease, and what you can do to keep your heart healthy.
Protect Your Heart and Relieve Your Pain
Studies have shown a definite link between heart disease and arthritis. In fact, according to the Arthritis Foundation:
People with rheumatoid arthritis (RA) have a 50% to 70% higher risk for cardiovascular disease than the general population.
People with osteoarthritis (OA) face a 24% higher risk for cardiovascular disease than the general population.
Nearly half of all adults with heart disease also have arthritis.
With a few lifestyle changes, you can reduce your risk of heart disease.
Watch Your Diet
Cut foods high in sodium and trans fats. Limit your red meat intake. Increase your consumption of fish, whole fruits and vegetables, and legumes.
The Mediterranean diet rich in healthy fats and fiber is a great way to eat heart healthily.
Exercise
The idea of exercising while suffering from arthritis pain seems counterintuitive. The last thing you want to do is strain your joints and increase pain.
However, not only is regular exercise essential in reducing arthritis symptoms, it also reduces your risk of heart disease. Exercise regulates your blood pressure and weight. It also lowers your risk for diabetes.
There are many exercises to provide the physical activity you need. Swimming and stationary cycling are especially easy on your joints. Need help getting started? Check out these tips to help start and maintain an exercise program to manage arthritis symptoms. 
Stop Smoking
Smoking cigarettes may be damaging your body in more ways than you realize. Not only does smoking increase your risk for vascular diseases, it can also harm your bones, joints, and surrounding tissue.
Don't Overmedicate
Arthritis symptoms are often treated with a regimen of nonsteroidal anti-inflammatory drugs (NSAIDS). While NSAIDS may be effective at relieving joint pain and inflammation, these medications have their drawbacks. NSAID side effects include an increased risk for heart attack. Since these risks increase with higher doses and long-term usage, it's important to stick to the dosage recommended by your doctor.
Living With Arthritis
Living with arthritis isn't easy, but it doesn't have to keep you from enjoying your life. Talk to your doctor about any questions or concerns you may have and don't be afraid to ask for help when you need it.
Do you need relief from chronic joint pain associated with arthritis? We're here to help!
Our commitment to personalized attention is the foundation of our patient-centered philosophy. We strive to help you achieve long-term health and mobility through customized, leading-edge treatment and procedures. Contact us today to schedule an appointment with one of our extensively trained orthopedic specialists.