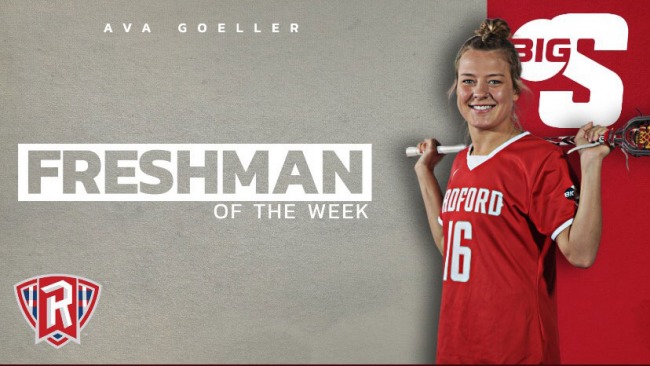 Ava Goeller is a freshman at Radford University, and a force to be reckoned with on the lacrosse field. On March 9, 2021, the midfielder from Bel Air, MD, was named Big South Freshman of the Week.
What some may not know is Ava's pathway to becoming a standout Division 1 lacrosse player came with some significant obstacles along the way. In 2018, then a student-athlete at Bel Air High School, Ava became a patient of Dr. Todd Tredinnick at Towson Orthopaedic Associates. Her early visits to the practice were to address chronic shoulder pain due to overuse. Then in spring 2019, Ava suffered a traumatic shoulder injury during a game, abruptly ending her season and instilling real fears about what her future in the sport she loves might look like.
"I had worked so hard for so long with a goal to play lacrosse in college," said Ava. "When I got hurt, I wondered if I would ever be able to recover well enough to become the player I knew I had the potential to be. It was a scary and sad time."
Dr. Tredinnick performed Ava's surgery—right shoulder arthroscopic stabilization for multidirectional instability and hypermobility—in June 2019. The surgery ultimately repaired the injury while also addressing issues causing her chronic pain, all at once. And although Ava will wear a brace for the remainder of her lacrosse career, today she is playing her best, without limitations, and 100 percent pain-free.
"Wearing the brace was hard at first, but now I forget it's even there," said Ava, who is studying to be a nurse. "I am so grateful for the care I received and for the way Dr. Tredinnick made me feel as his patient. He cared about me and my goals as an athlete. I would not be the lacrosse player I am today without him."
Updates:
Goeller Collects Second Freshman of the Week Honor – 3/31/21
Goeller Named Big South Freshman of the Week for Third Time – 4/6/21
Goeller Becomes First-Ever Radford Lacrosse Freshman of the Year – 4/29-21
Ava Goeller is the first freshman in program history to capture VaSID all-state first team honors – 7/8/21