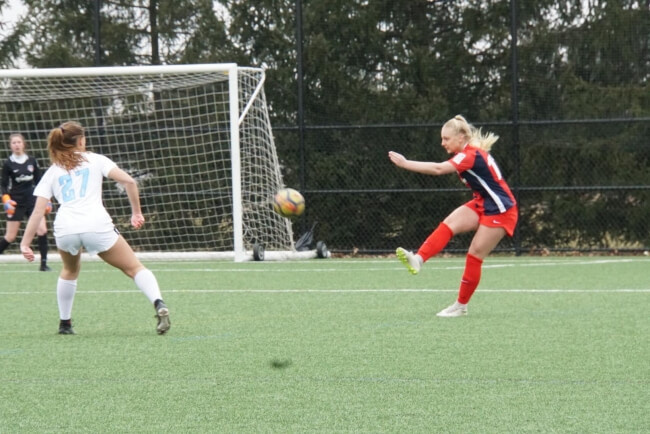 You're cheering from the stands when you see your child fall to the ground. Your heart stops and you hold your breath. A hush falls over the crowd and time seems to stand still. If you're lucky, the moment is brief, and the game goes on.
But what happens when it doesn't?
In September of 2016, Taylor Sammons had just started her 8th grade year and looked forward to playing high school soccer—something she had been working toward since the age of 3. Until one mis-step left her future uncertain.
Taylor was playing defense when her knee gave out and she collapsed. Unlike many of her teammates, Taylor had managed to make it through the previous 10 years injury-free. "I was the one that never got injured. So, when I had this really big thing happen to me, when I just collapsed… I really didn't know what to think. Everyone was around me. It seemed like everyone knew what was happening except me. I was in shock, I didn't know what to think. I just knew I was in an extreme amount of pain and I couldn't move."
When a trip to the emergency room left Taylor and her family without answers, they decided to visit Towson Orthopaedic Associates where she was seen by pediatric sports medicine physician, Dr. Teri McCambridge. Believing Taylor had torn her ACL, Dr. McCambridge referred her to fellow sports medicine specialist and orthopaedic surgeon, Dr. A.J. Detterline. Following further evaluation, Taylor was scheduled for surgery to repair a torn ACL and meniscal tears in her left knee.
At first, Taylor feared the end of life as she knew it. "As a 13-year-old, I thought everything was over. I thought I wasn't going to play soccer again." She soon realized an ACL tear is a common injury and she'd eventually be able to return to the game. "I said 'I can do it, it's only 8 months.' I was just thinking about the people that maybe had cancer or other bigger issues and thinking this was completely minor compared to everything else."
Taylor's surgery was a success and, following an extensive rehabilitation program, she was able to return to the sport she loves. However, two months later, she felt a familiar "pop". "I saw my dad's face, he was completely…just, blank. Everyone was in shock. My mom came running over and I just remember screaming 'Mom, I tore my ACL again!'"
Almost exactly 10 months after her first injury, Taylor was once again scheduled for ACL and meniscal repair—this time in her right knee.
The following year, Taylor returned to her position on the McDonogh High School Girls Soccer team which went on to win the IAAM A Conference Soccer Championships.
Taylor credits Dr. Detterline with her success saying not only was he "the best [doctor] you could ask for," but his dedication and reassurance also played a huge roll in keeping her motivated throughout her recovery. "He was always there to push me and give me confidence that I was going to be ok. He was there as a human being, not just a doctor."
Currently a starter for The Washington Spirit DA soccer team, Taylor says she definitely wants to play college soccer—but academics will come first in choosing a school. She plans to attend medical school with some valuable advice from Dr. Detterline in mind… "Remember to keep your options open, don't put all your eggs in one basket."