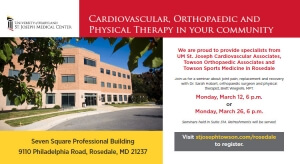 We are proud to provide specialists from Towson Orthopaedic Associates, Towson Sports Medicine (Rosedale) and UM St. Joseph Cardiovascular Associates for two informative seminars. Join us Monday, March 12, 2018 (6 pm) or Monday, March 26, 2018 (6 pm) for important information regarding joint pain, replacement, and recovery with orthopaedic surgeon, Dr. Sarah Hobart.
Seminars will be held in Suite 314 and refreshments will be served.
Location:
Seven Square Professional Building
9110 Philadelphia Road
Rosedale, MD 21237
Click for additional location information and directions.
Visit St. Joseph Medical Center to register!