Clinical Professor of Orthopedic Surgery, University of Maryland


Chief of Orthopedics, University of Maryland St. Joseph Medical Center
Dr. David F. Dalury specializes in total knee replacement, partial knee replacement, and hip replacement. Dr. Dalury and his team of dedicated nurses, anesthesiologists, and therapists have created a rapid recovery program focused on enhanced pain management and early recovery. This program allows patients a quicker return to their desired daily activities.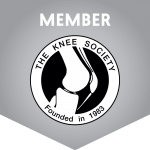 Dr. Dalury is a member of numerous medical societies and associations and has written extensively for peer-reviewed publications. In addition, Dr. Dalury resides as an active member of The Knee Society, an elite group of orthopaedic surgeons charged with the advancement of care to patients with knee disorders through leadership in education and research.
Dr. Dalury is a Top Doc in Orthopaedic Surgery as listed with Castle Connolly.

Excellent source for information regarding Total Knee Replacement and Total Hip Replacement (Click AAHKS logo)