Thank You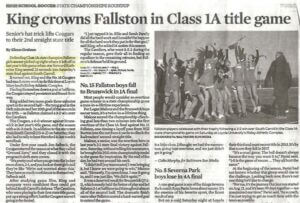 Dear Dr. Brodie,
Just a note to thank you for helping Katherine recover from her stress fracture in her foot. Enclosing an article ~ Fallston H.S. won the State Championship in soccer. Thank you for helping her to have a fantastic season.
December 12, 2022
K. King
Easy and Effective Treatment
Dr. Brodie was kind , professional and efficient in diagnosing my foot pain and gave me a very easy and effective treatment which even after just a few days has been a game changer! I really appreciate that he did not just try to prescribe me a pill to take care of if. I highly recommend Dr. Brodie and Towson Orthopedics!
August 14, 2022
Christy K.
Very Good Experience
I had a very good experience with Dr. Brodie. The treatment plan is good.
August 11, 2022
Cheryl C.
Ankle/Foot Instability
Dr. Brodie immediately grasped from Xrays what two other docs in his field did not report when they took xrays( over past several years) when I have had increasing trouble ambulating due to left ankle/foot instability and pain after a tendon replacement.
I look forward to his expert care and advice!
August 1, 2022
Marie A.
Awesome!
Dr. Brodie is awesome! His staff is great!
July 28, 2022
Sharon K.
Quickly Assessed My Problem
Dr. Brodie is always kind, caring and professional. He had x-rays done and quickly assessed my problem. I will return to him if I have a need in the future and I would highly recommend him to anyone else who needs a podiatrist.
July 15, 2022
MelLynn K.
Made Me Feel Comfortable
Made the diagnosis, and made me feel comfortable for surgery.
Now Healing!
July 14, 2022
William G.
Definitely Recommend
Would definitely recommend TOA and Dr. J. Brodie. Friendly and caring staff. Was very pleased with my visit today.
July 14, 2022
Dionne G.