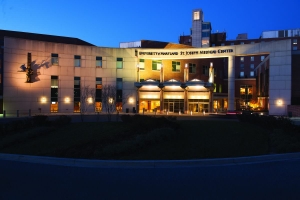 We are proud to announce UM St. Joseph Medical Center was voted #17 Top Hospital in the United States for Total Hip and Total Knee Replacement by CMS.gov. While there were four other Maryland Hospitals mentioned in the Top 200, SJMC was the only local hospital honored in the Top 20.
1,571 cases were reviewed which showed lower than average complications as well as lower than average cost. When considering value, SJMC ranks above HSS Hospital for Special Surgery in New York City.
In 2017, UM SJMC's 6th Floor Orthopaedic nursing team received the Orthopaedic Nursing Award from the National Association of Orthopaedic Nurses, the first time a Maryland hospital received this honor.
Thanks to our dedicated staff, UM SJMC is in the top 5% of hospitals in the nation, as evaluated by Healthgrades. Congratulations to all—leadership, nurses, therapists, outpatient visiting nurses, joint classes, and surgeons.