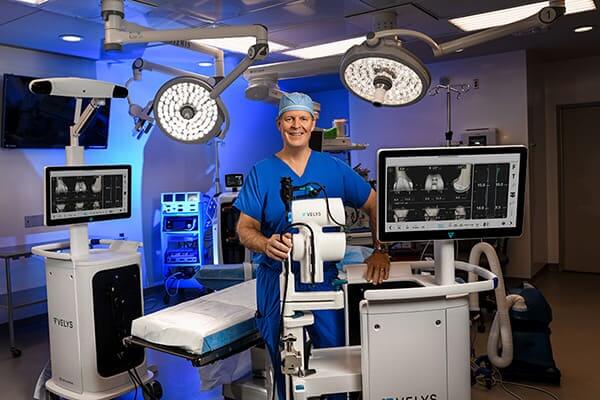 University of Maryland St. Joseph Medical Center Brings the Latest in Robotic Knee Replacement Surgery to Maryland. 
The joint replacement experts at Towson Orthopaedic Associates and UM St. Joseph work with each patient to provide an individualized care plan. Although we explore conservative, non-surgical solutions first, if non-invasive treatment plans are ineffective joint replacement solutions may be explored—including robotic surgery for knee replacement.
Dr. David Dalury, Joint Replacement Specialist and Chief of Orthopedics at UM St. Joseph, was an instrumental part of a team who developed and tested the VELYS robot for total knee replacement—a next-generation technology known for precision and accuracy.
UM St. Joseph is the first hospital in Maryland to utilize this leading-edge robotic-assisted approach to knee replacement.
The Benefits of Robotic-assisted Knee Replacement
Robotic-assisted knee replacement provides patient-specific, real-time data to the surgeon allowing optimal implant positioning and the best possible patient outcomes.
After robotic knee replacement surgery, patients typically report:
Greater range of motion
Faster recovery time and less pain than traditional methods
Shorter hospital stay, or same-day discharge after surgery
In the News:
WBAL-TV11 News: New Robot Revolutionizes Knee Replacement Surgery Recovery Time
Jul 19, 2022
Each year, U.S. surgeons perform more than 1 million knee replacements, which has become the most common orthopedic surgery. Many patients put off replacement surgery and live with pain for years because the recovery is so daunting.
But new technology may be changing that.