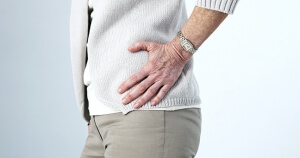 Symptoms of hip arthritis include discomfort, aching, and stiffness in the groin, buttock, or thigh after sitting for long periods and pain when active.
There are several different types of arthritis and the one affecting your joints will determine the treatment options we recommend. Injections, anti-inflammatory medications, braces, and other non-surgical treatments may be able to sufficiently relieve your concerns and improve your quality of life.
If surgery is determined to be necessary, our minimally invasive techniques typically help you to heal faster than traditional open surgery.