The hip is one of the hardest working joints in the body, typically carrying pressure equivalent to three times your body weight. As a result, this dynamic area must remain functional and healthy to perform a wide range of movements, from casual walking to running, jumping, and other highly demanding activities. If the hip joint becomes compromised due to common wear and tear, arthritis, or injury, your quality of life could diminish significantly.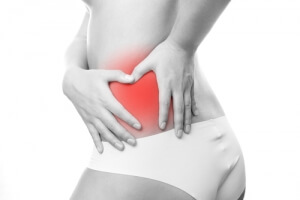 At Towson Orthopaedic Specialists, our team of board-certified orthopaedic surgeons offers a broad selection of therapeutic, minimally invasive treatment options. If your concern ultimately requires a total hip replacement, we can customize a treatment plan utilizing some of the most advanced surgical techniques available to help achieve the best possible result and reduce your recovery time.
Hip Treatments
Not all hip pain will require surgery to address, and our orthopaedic specialists will recommend a progressive series of conservative treatment methods before determining that an operation can provide the best possible outcome. Some of the non-surgical approaches we can utilize to help alleviate your pain and heal your condition may include physical therapy, anti-inflammatory medications, injections, and stretching. If you would like to learn more about strengthening and stretching positions that can address hip pain, Towson Orthopaedic Specialists created a hip flexibility and exercises video that offers step-by-step instructions for several actions you can perform on your own.
Total Hip Replacement Surgery
If a total hip replacement is advised, there are a number of techniques we can use, and we will determine the most appropriate option after discussing your needs, current health, lifestyle habits, and other unique considerations. This procedure involves the removal of the ball and socket joint of the hip, which will be replaced with metal and polyethylene (plastic) prostheses. These artificial parts are designed to be durable and high-performing for long-lasting, comfortable use. The ball component will be made of metal while the socket will be constructed of polyethylene or a combination of polyethylene and metal. There are several versions of these prostheses available, and we will discuss which type we believe will offer you the best possible effect based on your age, gender, health, condition, and other distinguishing factors.
Prior to surgery, your orthopaedic surgeon may ask you to lose weight, stop smoking, and/or avoid certain medications. Additionally, you should not eat or drink the night before the operation. If the physician has any other instructions, it's important to follow these orders as directed.
Hip Replacement Recovery
In most cases we will perform a minimally invasive arthroscopic technique during surgery, which can help to speed recovery, reduce the size of the scar, and offer excellent results. Our rapid recovery program is specifically designed to assist you in getting back to your normal routine as quickly and as safely as possible. You will stay in the hospital for a few days, or as long as recommended by your orthopaedic surgeon, and we will provide prescription medication to help minimize discomfort during the healing process. Depending on the technique used, you may have a drain attached to help eliminate fluids that would otherwise accumulate in the area. Typically this tube will be removed after a few days, when your bandage will be changed and replaced with a smaller one. Your comfort and safety are our highest priorities, and our experienced and friendly staff will help you find a comfortable position while you stay with us, as well as encourage you to move your unaffected leg and rotate your ankles to limit the risk of blood clots.
Once you are discharged from the hospital your at-home recovery will begin. Much of your activity will be limited during this time, and it's essential for you to follow any instructions for movement to help optimize your healing. If you notice anything unusual during your recovery, such as drainage, a foul odor coming from the incision, development of a fever, or swelling, tenderness, and/or pain, you should alert your physician immediately.
Everyone's body and rate of healing is unique, so you must not be concerned about how long anyone else has taken to recover. You can typically return to driving once you are able to place your full weight on your hip. We recommend practicing driving in a safe location before resuming this activity as normal. As for work and regular daily duties, your physician will discuss the appropriate length of time off with you based on your unique needs and healing rate. In approximately three to four months you should be able to perform certain low-impact exercises, including walking, bicycling, and swimming. High-impact activities like running, most sports, and aerobics, should still be avoided. Your doctor will explain more thoroughly what you can and cannot do during your follow-up appointments, which typically occur at six weeks, five months, and one year following your operation.
If you have additional questions about total hip replacement and our rapid recovery program, or if you would like to schedule a consultation with one of our experienced orthopaedic specialists, please contact us today.