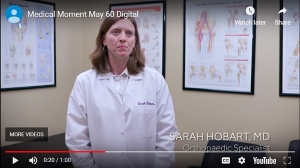 We're pleased to announce a recent WBAL TV 11 "Medical Moment," featuring Dr. Sarah Hobart. In the video, Dr Hobart discusses Towson Orthopaedic Associates' comprehensive care programs for ortho conditions from sports medicine to joint preservation and everything inbetween.
» Watch the WBAL TV video about Dr. Hobart and Towson Orthopaedic Associates' exceptional ortho care. 

» Click to read about the ortho care services we provide.