If you feel pain in the bottom of your foot or heel when you take your first steps in the morning, you may have a condition called plantar fasciitis. This common foot concern typically affects individuals who are middle aged or older or who spend long hours on their feet working or exercising. Other factors that can increase the likelihood of plantar fasciitis developing include excess weight, high arches or flat feet, and pronation (when the feet roll inward when walking). The pain you feel is due to strain of the plantar fascia band, a ligament that connects the heel of your foot to your toes and supports the arch. When this flat band of tissue becomes injured, the ligament can become swollen, inflamed, weak, and irritated, typically resulting in discomfort when standing or walking.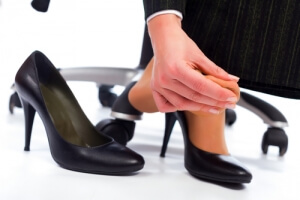 Our experienced orthopaedic surgeon utilizes a combination of non-surgical treatment methods to help reduce pain, stretch and repair the ligament, and return you to normal activity as quickly as possible. In most cases, surgery will not be necessary. Instead, a multi-modality approach incorporating stretches, medication, orthotics, and, potentially, steroid injections, usually can provide significant relief over time.
Plantar fasciitis typically develops over several years, though the pain may suddenly appear or worsen. If you have additional questions about this condition and how we can help to reduce your pain, or if you would like to schedule a consultation, please contact our office today.